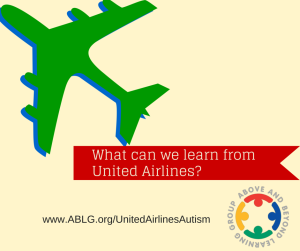 Recently, United Airlines had an emergency landing in Salt Lake City, Utah.
Why?
To remove a teenager with Autism Spectrum Disorder and her parents from the plane.

You can read the mother's postings about the incident here.
At Above and Beyond Learning Group, we acknowledge that there are three sides to every story. That's a phrase we use all the time when problem solving and troubleshooting. It's not helpful to blame United Airlines or to take sides with the family. We are here to highlight the silver lining ~ Dr. Donna Beegle advocating for training for flight attendants.
What this story presents is an opportunity to raise some REAL Autism Awareness. Let's take a look at some programs that have raised awareness in ways that truly, directly impact the lives of people with Autism Spectrum Disorder.
What are some of the areas of training these programs touch upon?

Recognizing a person with Autism
Strategies for successful interactions
Strategies for successful communication
Stimuli that might agitate a person with Autism, such as bright lights and siren noises
Don't you think that airline personnel could use trainings like this to increase their awareness and sensitivity towards their clients with Autism Spectrum Disorder?

Let's think ahead ~ what other fields could benefit from trainings like these as well! Leave us a note in the comments.
Don't forget to download our QuickStart Safety Guide for Individuals with Autism, which gives tips on registering your loved one with Autism with your local police force.
Share This!