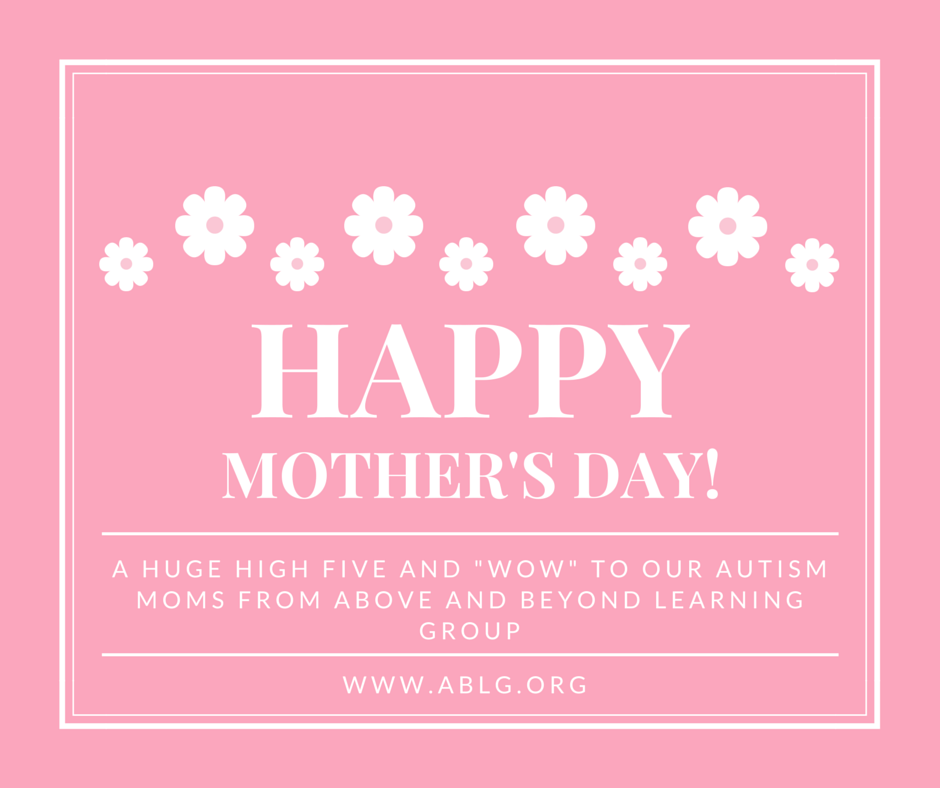 Dear Moms,
We wanted to pause for Mother's Day and say not just thank you, but "wow!"  As the people providing your ABA and Speech Therapy, we are so focused on your child that we might forget to look at the whole picture and say, "You're amazing!"
Disability Scoop reports that "Autism Moms have stress similar to combat soldiers".  You're not just parenting.  You're getting an entire education in therapy, special education, language development, and behavior management.  So if you're feeling extra exhausted, if "exhausted" doesn't even begin to describe it, it's no surprise.
And according to the research, you're interrupted at work more than the average American mom, you give an average of 2 hours more time daily to caregiving, and you're three times more likely to have experienced a stressful event every day.  Yet you're still supporting your fellow moms.  Volunteering your time at school. Holding down not just the full-time job of making sure your all your children have everything they need, but often working to support all the therapies financially.
We've put together some resources for you that might help you get some support, both for you and your child.  If you live in New Jersey, here are some services:
Autism New Jersey offers free parent workshops on topics like Safety Planning, Taking Care of Yourself When Your Child Has Autism, and Understanding and Improving Challenging Behavior. They also offer an ongoing free, at home webinars on Guardianship and Estate Planning.
Autism Speaks has a list of support groups in New Jersey (and across the country), many of which also organize speakers and events.
PerformCare offers respite services for eligible families  who have children up to age 21~ learn more here.
Respite care is also available through Sidekicks.
If you're looking for some parent coaching, Connie Hammer provides coaching just for parents of individuals with Autism. Her newsletter is chock-full of great tips and support.
And for moms everywhere, check out the Autism Moms Support Group on Facebook!
Above and Beyond Learning Group is offering parent training groups in our Princeton location – call 973-423-2254 for information.  We also offer Parent Coaching Bootcamps, indivudallized in-home support to teach you to teach your child so you can have the skills you need for a lifetime!
On behalf of our staff at ABLG, thank you for letting us into your homes, for working with us, and for trusting us with the care and teaching of your children, teens, and adults with Autism Spectrum Disorder.
Share This!