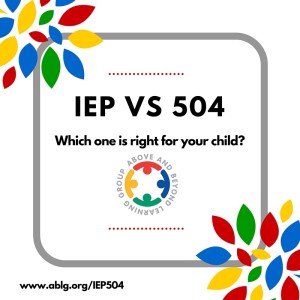 ABLG often speaks to parents who are concerned with their child's school performance.  They think their child may benefit from additional supports, but it can be difficult to decide what to do.  One of the most common questions is what's the difference between a 504 plan and an IEP (Individualized Education Plan).
First, let's define both.  An IEP is a legal document, which outlines:
the student's individual needs,
services the student will receive,
how to measure the student's progress.
The Individuals with Disabilities Education Act (IDEA) requires all students who receive special education services to have an IEP.  Students diagnosed with 13 specific disabilities may qualify for an IEP, if it is determined that they need special education services to make progress in school.  Students who do not have one of these disabilities may qualify for services through a 504 Plan.
As part of Section 504 of the Rehabilitation Act of 1973, students who have learning or attention challenges may be eligible for a 504 Plan.  To qualify for a 504 Plan, the school must determine that the student's disability "substantially limits one or more major life activities".  A 504 Plan outlines how accommodations and modifications will remove barriers to the student's educational success.  Accommodations, such as taking exams in separate areas with less distractions, extended test times, or teacher-provided class notes, serve to assist in how a student learns or how they show what they have learned.  Modifications change what or how much a student is expected to learn.
Also, a student with a 504 Plan may not receive special education services.  In fact, many children with 504 Plans spend their entire day in general education classrooms.
Second, students are eligible for an IEP from 3 years old until 21 years old, whereas 504 Plans are for students in grades K-12.
Next, since an IEP is a legal document, there are strict regulations about its development and implementation.  For example, the IEP team must include the parents, general education teacher, special education teacher, specialist to interpret evaluation results, and a district representative who oversees special education services.  There are also required parts of the IEP document, such as annual education goals.
In comparison, the 504 Plan is not a legal document and has no standard.  It does not even have to be in writing (although it usually is).
Finally, 504 Plans do not require schools to provide regular updates on a student's progress.  Here are some tips about how to make sure your school is following the plan.  IEP's do include how to measure and report a student's progress to parents.
As the end of the school year approaches, consider how your child has progressed and plan for next year.  If there are concerns about the need for modifications and/or accommodations, be sure to speak to your child's teacher.
If there are any "informal" modifications or accommodations in place this year, if it is not included in a 504 Plan or IEP, then your school is not legally required to do them next year.  Open communication with your child's teacher will help to figure out the right route for your child.
Share This!