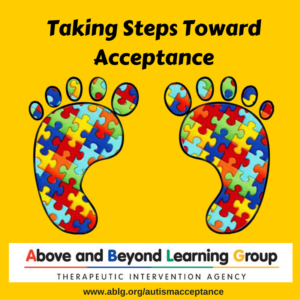 April is known around the globe as Autism Awareness Month.  Countless individuals sport the color blue, puzzle pieces, and ribbons to represent autism.  Parents and professionals gather to hear experts in the field speak about treatments, education, and stories of accomplishments and success.  Reporters share statistics and, for a moment, we take the time to shine a spotlight on the symptoms and stories of autism.  With the latest CDC report of Autism Spectrum Disorder (ASD) prevalence rates being as high as 1 in 41 children in the state of New Jersey (CDC, 2016), it is likely that we are all aware of someone with ASD – a relative, a friend's child, your child's classmate.
The founders of Above and Beyond Learning Group (ABLG) have supported individuals and families affected by ASD for the last 20 years.  Through our mission, ABLG has promoted autism awareness through educating our communities, schools, teachers, medical professionals, legislators, and families.  At ABLG autism awareness lasts well beyond April, becoming a part of our daily interactions with learners and families.
As a society, we have arguably achieved Autism Awareness thanks to so many who have devoted their careers and lives to the cause, but we have not yet achieved the end goal.  Now we must move farther, to Autism Acceptance.
But what exactly does that mean?
It means we must stop stereotyping the disorder, and begin to understand that ASD affects each person on a unique and individual level.  We must be supportive of an individual's limitations while embracing their strengths.  It is our responsibility as a society to provide opportunity and support systems for all individuals to become active and valued members of their communities, regardless of abilities.
If each person did just one action in the movement toward Autism Acceptance, we would begin to change the lives of those affected in a tremendous way!  Acceptance doesn't need to be a grand gesture.  You can show acceptance through something as small as:
Encouraging your school district to provide more inclusive classrooms and opportunities for students with various skill levels,
Not staring at the parent in the supermarket whose child is having a difficult time,
Showing patience to the individual who requires the use of an adaptive communication device,
Participating in an autism-related community event – whether you have a child with ASD or not!
Simply offering a helping hand to a person who needs support.  Support = Acceptance
Thanks to the tireless work of all those directly impacted by ASD, our communities are largely aware of what Autism Spectrum Disorder is.  Now it's on to the next step, where our community members take that awareness and collectively embrace #AutismAcceptance!
Share This!