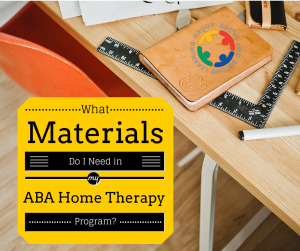 Starting an ABA therapy program is an individualized experience and tailored to the specific needs of each learner.
Lots of moving parts can lead to overwhelm. Where should the dedicated work space be? What materials do we need? Staff schedules, family schedules, collaboration with school… the logistics are endless.
In this series, we'll help cut through some of the overwhelm by tackling those questions one at a time.
In this post, we'll talk about some materials that make the start of a home program more structured and streamlined. These are some of ABLG's tried-and-true learning materials from our collective experience in the field.
Visual session schedule. Everyone likes to know what's coming, including learners with Autism. A visual session schedule is a first step to helping individuals with Autism order their time and activities. Schedules can also help prevent maladaptive behaviors by giving valuable information to the learner about his/her schedule. Using pictures or text, a visual schedule helps everyone stay on track. Down the road, visual schedules lead to using typical time management tools like daily planners and to-do lists.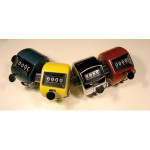 Counters: When tracking behavior, it's so much easier to use a counter than to record tally marks using pen and paper. To get a good baseline on things like maladaptive behavior or rate of manding/requesting, a counter is a simple tool that makes this task less distracting than shuffling papers.
Token system. One of our responsibilities is to help our learners tolerate a delay in reinforcement. Token systems help us do just that. By introducing a token system, children learn to handle a delay in their break or preferred activity. Token systems can be playful and designed to be appealing and fun for the learner. When used the right way, token systems allow the therapist to give real-time feedback to the learner about best responding. It allows the therapist to get more therapy done in a shorter period of time. It's much quicker to deliver a token than it is to deliver a toy, game, activity, or edible!
Choice board. We want to make sure that what we offer our learners is truly reinforcing (see our post on Reinforcers versus Rewards). One way to do this is to offer choice. A choice board is a collection of words or pictures of activities, edibles, games, and toys that the learner enjoys. A choice board gives the child a voice in his or her session.
Timers: Timers help children predict what's coming. Visual timers are terrific for children who can't yet read numbers. Plain digital kitchen timers are great for use in activity schedules, for timed breaks, and more. Children can learn to use timers for self-management as well.
Drawers for materials: We love to have drawers for learning materials so that our clients can learn to be independent. Labeled drawers (that correspond to the visual schedule) teach learners how to follow an activity schedule and promote independence. We encourage our families to have a second set of drawers for therapist materials like data sheets, rulers, and so forth. Organization goes a long way towards a smooth session and maximizing therapy time.
Check out our Pinterest Board for resources and links.Coming up next week: Guidelines for Creating an Autism-Friendly Work Environment.
Join us on Facebook and tell us: What are your favorite materials for starting an ABA Therapy Program?
Visual learner or on the road? Check out our YouTube Channel, ABLG TV!
Share This!