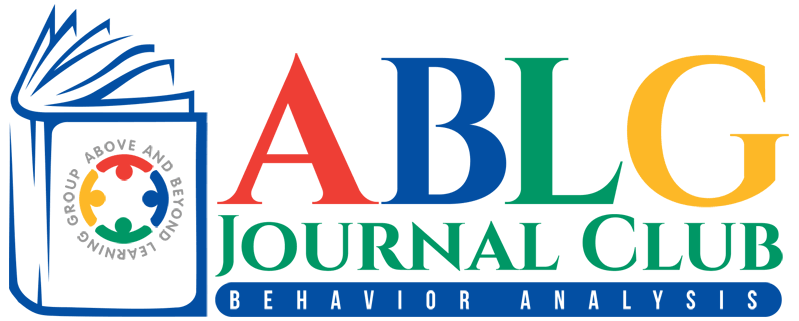 Why ABLG Journal Club?
The real question should be "Why NOT Journal Club?"
1 Type 2 CEU from the comfort of home
Nominate articles you are interested in reading
Vote for articles each month
Engaging and fun
Collaboration with professionals around the globe
Initial $15 to join group – first CEU is free!
Free continued access to group – $15 per CEU
All ABA professionals welcome to participate
In the May 2012 BACB newsletter, practitioners were reminded to stay directly in touch with published literature. Sure, many of us receive information about treatments through conferences and workshops, but is this the most efficient method to come into contact with recent findings in the field?
The BACB reminded us again in December 2012 that workshops and conferences should not replace our direct contact with peer-reviewed literature. Further, they highlighted the ability to receive continuing education units (what? Could it be? Its true!) for reading journal articles.
More About ABLG Online Journal Club
In the ABLG Journal Club, you log into Facebook and spend 50 minutes discussing the article with peers in the field. Journal clubs are an empirically-supported method to improve professional knowledge (Parsons & Reid, 2011) and have many benefits, including networking opportunities, variety of topics chosen by members each month, and active participation. Let's challenge ourselves to think outside the box.
ABLG Online Journal Club has additional benefits. Earn CEUs without the additional expense of conference and travel fees. ABLG does not charge additional CEU fees in addition to club membership. From the comfort of your own home, have an opportunity to choose the content of your education, and get feedback and ideas from other professionals.
Hope to see you there!
Frequently Asked Questions
WHO?
Calling all BCBAs, BCaBAs, ABA therapists, anyone looking for some intellectual stimulation.
WHAT?
The Journal Club is hosted through Above and Beyond Learning Group (ABLG) and takes place monthly via an online Facebook group. Each month 1 BACB Type 2 CEU is available for BCBAs and BCaBAs who actively participate in the meeting.
Each month an article published in a peer-reviewed journal will be identified to be read by Journal Club attendees. Attendees will "bring" at least 1 study question. Discussion related to study questions will last 50 minutes through Facebook Journal group.
WHEN?
First Thursday of every month, 8:00 PM EST
WHERE?
In your living room! (Or kitchen or basement or bedroom). Participate in Journal Club from the comfort of your own home. Meetings take place in a secret Facebook group. Facebook groups marked "secret" mean that Facebook friends cannot see that you are part of the group, and cannot see your posts.
HOW?
Once you enroll, an email will be automatically sent to you with further instructions about accessing the Facebook group. If you do not receive an email within 24 hours, please contact Above and Beyond Learning Group at 973-423-2254 x6 and ask for Lauren or email lauren@ablg.org.
2017 Calendar
ABLG Journal Club Meetings 
Jan 5
Feb 2
March 2
April 6
May 4
June 1
July 6
Aug 3
Sept 7
Oct 5
Nov 2
Dec 7