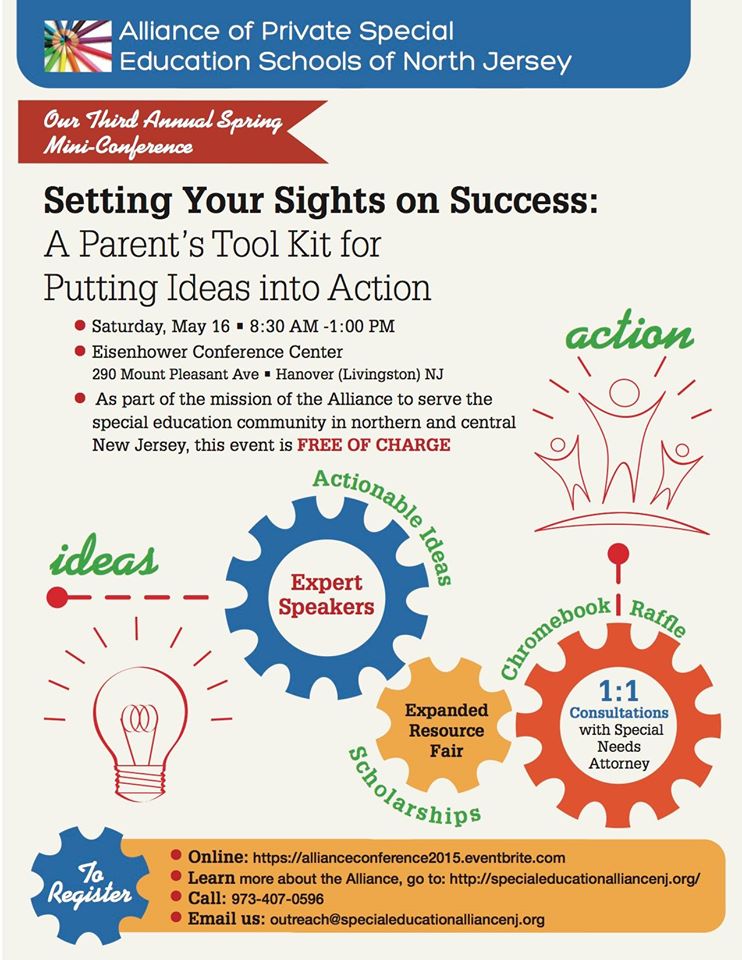 The Alliance of Private Special Education Schools in New Jersey presents its Third Annual Spring Mini Conference on Saturday, May 16th, 2015 from 8:30am-1pm. The event is FREE OF CHARGE and takes place at the Eisenhower Conference Center at 290 Mount Pleasant Avenue, Livingston, New Jersey.
Titled "Setting Your Sights on Success: A Parents' Toolkit for Putting Ideas into Action," this mini-conference is an opportunity for parents to connect with resources and providers.  The conference features keynote speaker Dr. Jim Ball, BCBA-D, speaking on practical ways to promote social skills not just at school, but at home, work, baseball games, and everywhere!
The conference features:
Expert Speakers
Expanded Resources Fair
1:1 Consultations with Special Needs Attorney
Chromebook Raffle
Actionable Ideas
Scholarship Opportunities
Click here to register for this free event!
Be sure to come by our table and say hello ~ we're so excited to participate as a resource for parents of children with Autism and related Developmental Disabilities. Learn about how we deliver high-quality ABA Therapy and Speech Therapy services in homes, schools, and communities!
We love opportunities to connect with the community we're committed to serving.
WHAT: FREE MINI-CONFERENCE PACKED WITH RESOURCES FOR PARENTS OF INDIVIDUALS WITH SPECIAL NEEDS
WHEN: MAY 16TH, 2015 8:30-1:00
WHERE: EISENHOWER CONFERENCE CENTER AT 290 MOUNT PLEASANT AVENUE, HANOVER (LIVINGSTON), NEW JERSEY
WHO: THE ALLIANCE OF PRIVATE SPECIAL EDUCATION SCHOOLS IN NEW JERSEY
WHY: ACTIONABLE IDEAS AND GREAT KEYNOTE SPEAKER…. Plus come say to the fabulous ABLG team!
Share This!